Syria: Anti-ISIL forces gain ground as Assad is blamed for 'gas attack'
Comments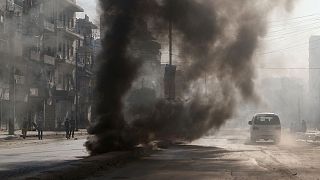 US-backed Kurdish-led fighters say they now control nearly three quarters of a strategic city in northern Syria, that was an ISIL stronghold.
If true, it would be extremely serious

State Department spokesman
Fierce combat has raged for two months, with thousands of residents said to be trapped inside Manbij.
Its loss would be a huge blow to ISIL which has used the city as a transit point for foreign jihadists and provisions from the Turkish border.
Manbij is in the northern province of Aleppo, which forms a theatre for several separate battles between multiple warring sides in Syria's five-year-old conflict.
Separately in Syria, a rescue service operating in rebel-held territory says containers of gas have been dropped from the skies onto the town of Saraqeb, in rebel-held Idlib province.
That is close to where a Russian military helicopter was shot down on Monday, killing all five people on board.
Syria gas attack after Russian helicopter shot https://t.co/0qA5txktkgpic.twitter.com/j4hVzsX7rX

— Reuters TV (@ReutersTV) 2 août 2016
The Syria Civil Defence group said more than 30 people, mostly women and children, were affected by the gas, which they suspect was chlorine.
A Civil Defence spokesman said it was the second time Saraqeb had been hit by toxic gas. The group was aware of around nine suspected chlorine gas incidents across Idlib province since the conflict began, he said.
The opposition Syrian National Coalition (SNC) has blamed President Assad's forces. Assad has denied previous accusations of using chemical weapons.
The SNC said of the reported use of poison gas in Saraqeb: "After shelling, besieging and killing civilians and perpetrating war crimes on them, the Assad regime has resorted once again, and in breach of UN resolutions 2118 and 2235, to using chemical substances and toxic gases.
"The daily reality confirms that all the international agreements and previous security council decisions, be they about chemical weapons or otherwise, are meaningless for the Assad regime."
"We have 28 confirmed cases, mostly women & children." Reports of chlorine gas attack on #Saraqeb, #Syriahttps://t.co/Cf1LpJAxzU

— Amnesty UK (@AmnestyUK) 2 août 2016
Government and opposition forces have both denied using chemical weapons during the five-year-old civil war. Western powers say the government has been responsible for chlorine and other chemical attacks. The government and Russia have accused rebels of using poison gas.
The US State Department said it was looking into reports of the gas attack on Saraqeb.
"If true, it would be extremely serious," State Department spokesman John Kirby told a news briefing.