Head of Australian inquiry into abuse of aboriginal boys quits
Comments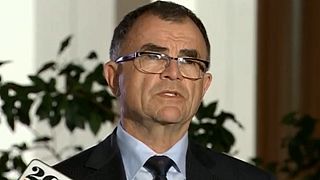 The head of an Australian inquiry into the abuse of children in detention has resigned.
Brian Martin was appointed four days ago to investigate prison video showing aboriginal boys being tortured.
Aboriginal leaders had said they would not cooperate with the inquiry unless they were represented on the commission conducting the probe.
"I'm not the only person who can conduct this Commission effectively and competently and it is critical that whoever is appointed has the confidence of those who are vitally concerned with this matter," Martin told reporters.
Widespread protests
Since the prison CCTV footage was broadcast last week protests have been held across Australia against its treatment of Aborigines and their high imprisonment rate.
Prime Minister Malcolm Turnbull ordered the probe last week, after the footage showed guards teargassing six aboriginal teenage inmates and strapping a half-naked, hooded boy to a chair at a Darwin youth prison in the Northern Territory (NT).
Aborigines comprise just three percent of Australia's population but make up 27 percent of those in prison and 94 percent of juvenile inmates in the NT.
The UN Human Rights High Commission (OHCHR) has called on Australia to compensate the victims of the abuse.
---
Brian Martin is a former Northern Territory Supreme Court Chief Justice who famously handed down light prison sentences of between 12 months and four years to a group of white youths who bashed an Aboriginal man to death in 2010.
Martin described the youths as "of otherwise good character" and gave the light sentences to avoid them "additional hardship" in prison, given the overwhelming majority of inmates are Aboriginal.
---
NT Aboriginal groups welcome Brian Martin resignation; call for consultation, & two Aboriginal Co-Commissioners pic.twitter.com/aqyHabqFmi

— Melissa Sweet (@croakeyblog) August 1, 2016
---
buster7k</a> <a href="https://twitter.com/mackaysuzie">mackaysuzieMattDoran91</a> <a href="https://twitter.com/abcnews">abcnews And he praised a group of boys who bashed an Aboriginal boy to death. pic.twitter.com/0viggxl1LL

— Deborah (@Prufrockery) July 28, 2016