Europe on edge: Bomb scare at Amsterdam's Schiphol Airport
Comments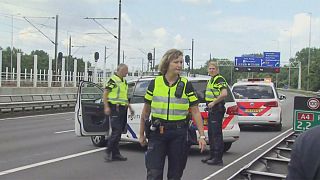 A bomb scare on Monday forced the closure of a motorway leading to Amsterdam's Schiphol Airport.
A man is said to have yelled "Bomb!" aboard a bus on the A4 motorway this morning.
Described as confused, he was held by armed police while a thorough search was carried out.
With no sign of any serious threat, the road was later reopened.
Amsterdam airport terror: Man held at gunpoint in bus bomb threat https://t.co/sULVnfTpxypic.twitter.com/YVHiPgkAKv

— Daily Star (@Daily_Star) August 1, 2016
In recent days, security measures have been stepped up in and around Schiphol, one of Europe's largest airports, with police searching vehicles after intelligence was received about a possible threat.
It has caused traffic jams during the busy summer holiday season.
Following Islamist terror attacks in France, Belgium and Germany, the Netherlands is considered a prominent target, because it supports US-led military operations against ISIL in the Middle East.
The national threat level in the Netherlands remains unchanged at "substantial," or one notch from the highest.
The last major attack in the Netherlands was the killing by a Muslim radical of Theo van Gogh, the outspoken film maker, in 2004.