The gloves are off - Clinton and Trump hit the White House campaign trail
Comments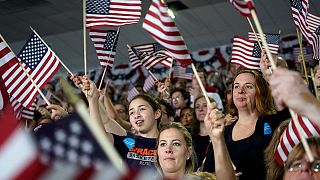 Fresh from accepting the Democratic presidential nomination, Hillary Clinton's hitting the road, to shore up support for her White House bid.
She has started out here in the swing state of Pennsylvania, amid new reports that a computer network used by her campaign has been hacked.
The latest attack, disclosed on Friday, follows reports of two other hacks on the Democratic National Committee and the party's fundraising committee for candidates for the US House of Representatives.
The US Department of Justice national security division is investigating whether cyber hacking attacks on Democratic political organisations threatened US security, sources familiar with the matter said.
The involvement of the division is a sign that the Obama administration has concluded that the hacking was state sponsored, according to individuals with knowledge of the investigation.
Away from that, Clinton is setting her sights on taking down the opposition – Republican Donald Trump.
"I don't recognise the country that Donald Trump describes. I don't recognise the mean spiritedness, the bigotry and the blustering and the bullying. I don't recognise that, because that is not who we are as Americans," she told supporters in Pennsylvania.
Hillary Clinton, Tim Kaine kick off campaign for battleground states in Pennsylvania https://t.co/erKraKmz2R by ColleenMNelson</a></p>&mdash; Capital Journal (WSJPolitics) 29 July 2016
Trump – campaigning in Colorado, another swing state – took the chance to slam Clinton's nomination acceptance speech.
"I've been nice. But after watching that performance last night, such lies I don't have to be so nice anymore," said Trump.
"I'm taking the gloves off right? Yes? Take the gloves off. Take the gloves off. Right?"
TRUMP in Colorado: "Gloves are off" pic.twitter.com/mXvuwX0fWl

— Ricky Vaughn (@Ricky_Vaughn99) 30 July 2016
Trump paints a dark vision of the US, blasting free trade and illegal immigration.
Clinton is presenting a more upbeat view, promising an America that works for everyone.
One poll released on Friday showed her leading Trump by six percentage points.
Thank you Colorado Springs. Get out & VOTE#TrumpPence16 in November! pic.twitter.com/wK02fWzJey

— Donald J. Trump (@realDonaldTrump) 29 July 2016