'We will not build a wall' - Hillary Clinton accepts Democratic presidential nomination
Comments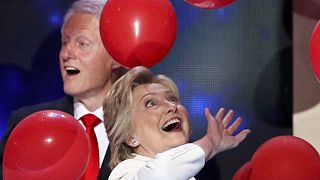 Hillary Clinton's formally accepted the Democratic presidential nomination, becoming the first woman to head the ticket of a major US party.
Speaking at the Democratic Convention, she did not hang about when it came to taking a swipe at Republican rival Donald Trump.
"We will not build a wall. Instead we will build an economy where everyone who wants a good job can get one," said Clinton, to thunderous applause.
"And we'll build a path to citizenship for millions of immigrants who are already contributing to our economy."
Our way of life is under threat by Radical Islam and Hillary Clinton cannot even bring herself to say the words.

— Donald J. Trump (@realDonaldTrump) 29 July 2016
Hillary's vision is a borderless world where working people have no power, no jobs, no safety.

— Donald J. Trump (@realDonaldTrump) 29 July 2016
During her speech, Clinton also reached out to supporters of Bernie Sanders, many of whom think she is too moderate.
"I have heard you, your cause is our cause," she said, "our country needs your ideas, energy and passion. That is the only way we can turn our progressive platform into real change for America."
HillaryClinton</a> Mean and divisive rhetoric will never prevail anywhere in life.There is hope in the air!<a href="https://twitter.com/hashtag/ImWithHer?src=hash">#ImWithHer</a> <a href="https://t.co/w9dg9fK0SA">pic.twitter.com/w9dg9fK0SA</a></p>&mdash; Paula Abdul (PaulaAbdul) 29 July 2016
Clinton – who described her nomination as a "milestone" – presented a more upbeat view of the US than the dark vision Trump offered last week.
Performer Katy Perry hit all the right notes on stage at the convention, but will the biggest speech of Clinton's career have struck a chord with Americans? All eyes are now on November's election.
Katy Perry performed at the DNC and the internet roared https://t.co/uRnxV56a1upic.twitter.com/fUBNgtnYgb

— BuzzFeed (@BuzzFeed) 29 July 2016
Thank you. pic.twitter.com/zTgGmMfHQg

— Hillary Clinton (@HillaryClinton) 29 July 2016
This is how you celebrate HillaryClinton</a> winning the nomination! <a href="https://twitter.com/hashtag/DEMSINPHILLY?src=hash">#DEMSINPHILLY</a> <a href="https://twitter.com/hashtag/WeMadeHistory?src=hash">#WeMadeHistory</a> <a href="https://t.co/vT32OCDg8B">pic.twitter.com/vT32OCDg8B</a></p>&mdash; HillaryMillennials (Millennials4Her) 29 July 2016