Interview: Democratic convention delegate Malcolm Kenyatta
Comments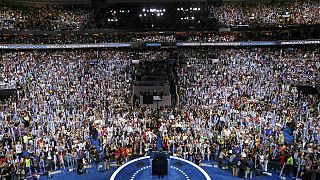 Stefan Grobe, euronews:
Welcome to the Democratic Convention here in Philadelphia. I'm Stefan Grobe and I'm joined by Malcolm Kenyatta, delegate from Pennsylvania. Can Hillary Clinton be successful in turn out the African-American vote to the level that Barack Obama did for ages?
Malcolm Kenyatta, Democratic convention delegate:
I really believe that Hillary has a chance (and some of the polls will back me up on that) has a chance to even beat him in that metric and not because the African-American community doesn't like Barack Obama but because even black Republicans are afraid of the type of things that Donald Trump is talking about. But I think the person that probably made the case the most effectively so far is Michelle Obama. That was the best speech I have ever seen…her 'give, and the energy in the room. It was palpable.
Stefan Grobe, euronews:
Michelle Obama is very very popular. Hillary Clinton is not. Let's face it. How is she going to overcome this in the remainder of the election campaign?
Malcolm Kenyatta, Democratic convention delegate:
The good thing for Hillary Clinton is that we've seen the story play out before: when Hillary Clinton runs for office, she tends to take a little bit of a beating on her favourability numbers. When she is in the office, her numbers skyrocket. When you look at her numbers when she was secretary of State, I think 67 [percent], she was the most popular figure in American politics at the time. We were having a big primary, this wasn't the primary that a lot of people expected, but Bernie Sanders has energised our party, has energised our country and I think that you're gonna start to see those Sanders supporters come home. I'm talking to people every single day in the hall who might have come in here saying they were 'Bernie or bust' but they understand that they the bust means that we are gonna bust up immigrant families who want to come here for a better life, we're going to bust up any hope of getting higher wages, and we're going to bust up the core foundation of our country.
Stefan Grobe, euronews:
All right, we have to leave it at that. Thank you very much, Malcolm Kenyatta.