German court hands suspended sentence to four Russian football fans
Comments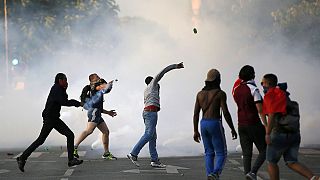 Four Russian football fans were handed suspended sentences ranging from ten months to one year by a court in Cologne, Germany after assaulting a group of Spanish tourists.
The attackers had been detained for six weeks leading up to the trial.
The assault took place in Cologne as the men made their way back from the European Championship that took place in France.
Spokesman for the court Wolfgang Schorn said: "The court acknowledged that the crime was possibly triggered by the victims putting up an anti-fascist sticker. But the court could not be certain that there was a political background behind the crime because the defendants were intoxicated, and the court stated that it was very possible that this was the inducement but not the motive (for the crime)."
The attackers had arrived from Marseille where violent clashes between Russian and English fans marred the build-up to the two nation's Euro 2016 clash at the Stade Velodrome.
A fifth defendant who denied involvement in the attack remains in custody awaiting a separate trial.