Celebrations as pastor is freed by Zimbabwe court
Comments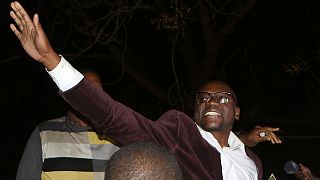 There was much celebrating in Zimbabwe after a court freeded a detained pastor accused of trying to overthrow the government via an internet campaign.
Evan Mawarire was held for one day as officers searched his house.
Zimbabwe Protest – #ThisFlag: Court throws out case against anti-Mugabe pastor. debarlinea</a> <a href="https://twitter.com/hashtag/AMLiveNTV?src=hash">#AMLiveNTV</a> <a href="https://t.co/0a4Kk0XS5h">pic.twitter.com/0a4Kk0XS5h</a></p>&mdash; NTV Kenya (ntvkenya) July 14, 2016
Mawarire's campaign has inspired rare protests against President Robert Mugabe.
Initially Mawarire faced charged of inciting violence before prosecutors changed the charge to attempting to overthrow the government, which carries up to 20 years in jail if found guilty.
Anger is rising in Zimbabwe over high unemployment, corruption in government and shortages of money, which has seen people spending hours in bank queues to withdraw their money.
Amnesty International said Mawarire's arrest was a calculated plan by Zimbabwean authorities to intimidate activists ahead of further protests.
In Mugabe's Zimbabwe, a floundering authoritarian regime faces an uncertain leadership transition. https://t.co/GhNSZNDIik

— Foreign Affairs (@ForeignAffairs) July 13, 2016