China warns it could set up an air defence zone in South China Sea
Comments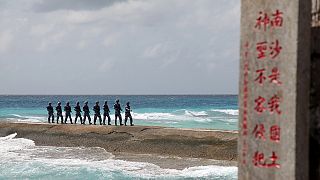 A defiant China has now formalised its objections to an international tribunal ruling that says its claims to territorial rights in the South China Sea have no legal basis.
Issuing a white paper, China's vice foreign minister said Beijing is upholding its sovereignty over islands in the region which includes the right to set up an air defence zone. Earlier the president had equally dismissed the ruling.
The Hague tribunal rules in favour of Phillipines,"condemns"China's land reclamation projects.Far reaching judgement https://t.co/LY5MndGkR8

— Suhasini Haidar (@suhasinih) July 12, 2016
Activists in the Philipines had welcomed the tribunal's findings which have decided that the so-called nine-dash line China uses to demarcate its territorial claim is unlawful.
[FREE] What is going on in the South China Sea? What is the nine-dash line? Will there be war?" https://t.co/5bqRQMeG2s

— Crikey.com.au (@crikey_news) July 13, 2016
Philipines lawyer Paul Riechler explained that the Hague-based tribunal's findings in favour of a complaint brought by the Philipines will have wider implications:
"If the nine dash nine is illegal as applied against the Philippines as the tribunal declared today, then it is equally illegal as applied against Indonesia, Vietnam, Malaysia and other states along the South China Sea."
Although the islands within the nine-dash line are largely uninhabited, they may have reserves of natural resources around them.
The sea is also a major shipping route and home to fishing grounds that supply the livelihoods of people across the region.
Leading up to the tribunal's ruling there have been many confrontations between fishing boats from several neighbouring countries and the Chinese navy.