Explainer: South China Sea dispute
Comments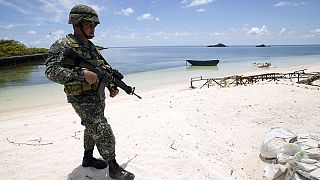 The South China Sea is 3.5 million kilometres of sea with small islands and rocks The right to ownership of the vast area has developed into a long-running simmering dispute between Beijing and the Philippines.
Increased military activity by China has spread concern among its smaller neighbours. But the US also use the territory to regularly conduct military exercises.
Tuesday's verdict by The Permanent Court of Arbitration in favour of the Phillipines risks further ramping up tensions in the region.
The dispute draws in five countries with overlapping claims to some of the world's most promising oil and gas fields and vital fishing grounds.
What's more, it's a strategic maritime connection for global trade. It reflects the shifting balance of power in an area, where China has been expanding its presence.
Beijing justifies its claim to ownership of 80 percent of the area as Chinese fishing boats have used the sea since ancient times.
But apart from the oil and gas resources, China sees controlling the expanse as a key to strengthening its territorial security.
That's because off shore the country is surrounded by two chains of islands, Japan-Philippines-Indonesia plus the Aleutian Islands and Guam. Most of which are US allies or as with Guam part of the US.
In a front-page editorial published the day before The Hague decision, The Communist People's Daily said that the case was a US and Philippine plot against China – a trap set by the US and Philipines with the tribunal playing the role of an accomplice.
China's response to the verdict suggests nothing has changed and the conflict is far from being resolved. But it could have another benefit and help raise international awareness for Beijing to be a responsible player.
"It escalates the pressure on Beijing an really gives cause to the network of international partners who are seeking maritime resolutions based on international norms, this is really a major momentum builder for efforts to require Beijing to play by commonly accepted norms," explained Johnathan London Political Economy Professor, Leiden University
Although The Permanent Court of Arbitration has no power of enforcement, the victory for the Phillipines could spur on Vietnam, Malaysia and Brunei to file similar cases.