Dozens killed as fierce fighting erupts between Syrian government and rebels
Comments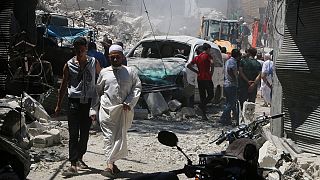 Fierce fighting in Syria's Idlib province has left up to 30 people dead.
There's been a surge in bombings on rebel held areas by the Syrian military since the end of a 72-hour ceasefire last week.
In one air strike, an aid charity claims a field hospital was hit in the town of Ahsem with up to three people killed.
It's understood Syrian authorities will call another truce on Tuesday but that's not expected to halt their military campaign on rebel held territories in western Syrian.
Aleppo's capture would be a strategic prize for President Bashar al-Assad's government which controls the major population centres.
On Monday, more than 300 shells fired by rebels hit western, government-held neighbourhoods of the city, killing five people and wounding dozens more, according to the Syrian Observatory for Human Rights.