Syrian government forces 'cut road to Aleppo'
Comments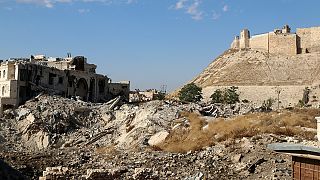 Some 250,000 Aleppo residents have been put under siege after Syrian government troops effectively cut the road into rebel-held areas of the city, a monitoring group reports.
The Syrian Observatory for Human Rights says the forces have pushed forward to within one kilometre of the Castello Road.
Rebels say the east of Aleppo is now sealed off and the soldiers loyal to President Bashar al-Assad are within firing range of the thoroughfare.
The advance took place during a 72-hour ceasefire declared by the Syrian army.
The city has been roughly split into government and rebel-held areas since 2012.
For more than five years, Assad has been fighting a civil war in Syria, which has broken the country up and had a disastrous effect on the economy.