Costa Rica bottleneck traps hundreds of African migrants
Comments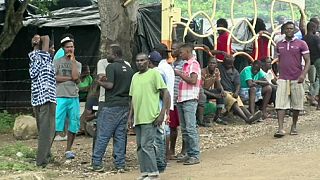 Europe is not the only region facing a refugee crisis. Although the numbers are far smaller, Costa Rica in central America is struggling with hundreds of African migrants who are stranded in squalid conditions in the country after Nicaragua closed its border, blocking an historic route north into the USA.
Many are camped out along the border, and German media is warning that their numbers could soon swell to 20,000.
"We are suffering a lot here. We arrived in Costa Rica as immigrants but they don't treat us like immigrants. We don't have a place to sleep, we don't have a place to live, and we are experiencing a lot of calamity," said one man.
Costa Rican officials say most have no papers and are vague about where they come from, and they cannot offer them asylum as it is clear none want to stay. And because their country of origin is unknown, they cannot be deported.