Blair takes 'full responsibility' for 2003 Iraq invasion, but stands by decision
Comments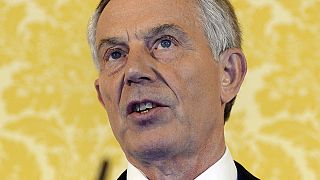 Former UK Prime Minister Tony Blair has taken full responsibility for the British invasion of Iraq in 2003, but says he stands by the decision.
"The decision to go to war in Iraq and to remove Saddam Hussein from power in a coalition of over 40 countries led by the United State of America was the hardest, most momentous, most agonizing decision I took in my 10 years as British Prime Minister. For that decision today, I accept full responsibility, without exception and without excuse," he said.
Blair was responding to the Chilcot Report which found "no imminent threat" from Iraq's then-leader Saddam Hussein at the time of going to war.
Arguments have been ongoing since 2003 over whether or not the invasion was legal and whether or not parliament was misled ahead of taking the vote on whether or not to take military action.
Chilcot slammed Blair for overstating the threat posed by Saddam Hussein and for failing to make adequate plans for after his downfall.
"It is now clear the policy on Iraq was made on the basis of flawed intelligence and assessments. They were not challenged and they should have been," said Chilcot.
Chairman of the Iraq Inquiry, Sir John Chilcot, said the "scale of the UK effort in post-war Iraq never matched the scale of the challenge."
"Mr Blair told the inquiry that the difficulties encountered in Iraq after the invasion could not have been known in advance. We do not agree."
'A better and safer world'
However, Blair said he believed "the world is better and safer as a result" of toppling Saddam Hussein.
"It is claimed by some that by removing Saddam we caused the terrorism in the Middle East and that it would have been better to have left him in power. I profoundly disagree," said Blair.
Family members of some of the 179 Britons who died in Iraq were briefed on the report in advance. Some chose to boycott the presentation, over fears it would be a whitewash.
"I know some of the families can not and do not accept this is so. I know there are those who can never forget or forgive me for having taken this decision and who think that I took it dishonestly. As the report makes clear, there were no lies. Parliament and Cabinet were not mislead, there was no secret commitment to war. Intelligence was not falsified and the decisions was made in good faith.
"However, I accept that the report makes serious criticisms of the way decisions were taken and again I accept full responsibility for these points of criticism, even where I do not fully agree with them."