Cameron warns 'lessons need to be learned' from UK's handling of Iraq invasion
Comments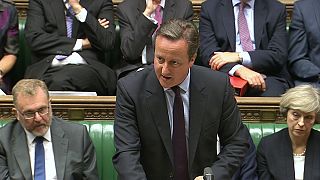 UK Prime Minister David Cameron has urged Britain to learn lessons from the Chilcot Report. A Conservative backbencher in 2003, he voted in favour of military action in Iraq.
"Taking the country to war should always be a last resort and should only be done if all credible alternatives have been exhausted."
"Yes, Britain has, and will continue to learn the lessons of this report. But as with our intervention against Daesh in Iraq and Syria today, Britain must not and will not shrink from its role on the world stage or fail to protect its people," Cameron told parliament.
Labour leader Jeremy Corbyn voted against going to war in Iraq.
He called for a more honest and independent relationship with the US to prevent a similar "act of military aggression" – as he put it – from happening again.
Eight months before the invasion of Iraq, the then-Labour leader and British Prime Minister Tony Blair told George Bush – the US President at the time – that he would be with him, "whatever."
Critics claim this is proof of Blair's deep-rooted intention to go to war. He maintains he made the decision "in good faith."
"There are huge lessons for every single one of us here today," said Corbyn. "We need to reflect very seriously before we take any decisions again to take military action without realising the consequences of those will live with all of us for many decades to come and have often incalculable consequences as a result," said Blair.
Those against the decision to go to war say the situation fuelled a deep distrust in politicians and the ruling establishment.