Cooperation and repatriation in wake of Bangladesh attack
Comments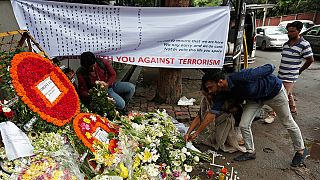 Bangladesh is reeling after police suggested the men who carried out one of the country's deadliest militant attacks were homegrown, privileged and educated.
Outlawed domestic group JMB is believed to have played a significant role in organising the band of gunmen who took and killed hostages at a café in the capital.
Bangladesh's Junior Foreign Minister Shariar Alam spoke about the siege at the Holey Artisan Bakery.
"An investigation is underway, the people who carried out the attack are all Bangladeshi local youths, and there is no such foreign engagement that we have found so far but investigation will work on every possibility."
Local authorities in Dhaka have dismissed ISIL's claim of responsibility.
International victims
Italians and Japanese nationals were among the 20 hostages who died. On Tuesday (July 5), Reuters quoted a Bangladesh police official as saying his colleagues may have shot dead a hostage by mistake, believing he was an attacker.
The bodies of the Japanese victims have been repatriated to Tokyo, while Italian officials are also making arrangements to return their nationals.
Deputy Minister for Foreign Affairs Mario Giro pledged Italy's assistance.
"We are here for this sad occasion and we here also to bring home the bodies of our citizens. Cooperation on Italy and Bangladesh will continue and will be reinforced by this sad situation."