Italy smashes ruthless migrant-trafficking gang
Comments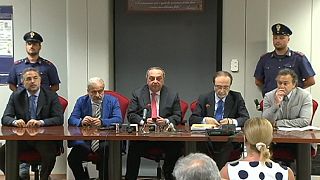 Italian police have smashed a major people smuggling and drug trafficking ring.
Authorities arrested 25 Eritreans, 12 Ethiopians and an Italian across ten cities in Italy.
The alleged scam used family reunification to get people into Italy as opposed the risk of taking to sea in a flimsy vessel.
Palermo prosecutor is Franco Lo Voi: "This method is much more expensive, because it is far safer than going to sea. The price went as high as $15,000 per individual."
Police used the testimony of an Eritrean man arrested in 2014 who revealed the modus operandi of "one of the most
ruthless international migrant-trafficking bands operating in Italy and North Africa," a police statement said.
Police raided a small perfume shop in Rome and seized over half million euros in cash.
Authorities also have an address containing information on the gang.