Brexit turmoil takes toll on main parties as leadership race ignites
Comments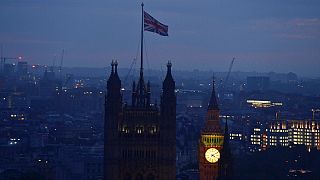 "One of the reasons why we should keep our options open is: yes, the referendum express the will of the people, but the will of the people is entitled to change."
The devil is in the detail says Tony Blair kicking off another round in the battle to paint Britain post-Brexit.
The former UK prime minister says parliament should only vote once a deal is on the table.
Sentiments seemingly shared by Britain's Home Secretary, Theresa May, who also voted to remain in the European Union. May, now favourite to take the country's top job, says there's no rush to start divorce proceedings.
"I've said that we shouldn't invoke Article 50 immediately. It shouldn't be before the end of the year," she told Robert Peston's ITV Sunday show. "We need to establish our own negotiating position. What's important for us though is that we get the right deal. And that's a deal which is about controlling free movement but it's also about ensuring that we've got the best deal possible in trading goods and services."
May's main challenge is now likely to come from Brexit campaigner and fellow conservative Andrea Leadsome who's expected to officially launch her leadership bid on Monday.
Her entrance into the contest relegates Britain's justice minister Michael Gove even further down the rankings with the bookies at least after his threw his hat in the ring to prevent Boris Johnson, the very public face of the Brexit campaign.
Meanwhile, Britain's opposition remains in disarray with the overwhelming majority of Labour MPs urging their leader Jeremy Corbyn to go. He's offered peace talks in a bid to quell demands for his resignation but refuses to budge because he says he has popular support.