Italy elected to UN Security Council in 2017 after Dutch deal
Comments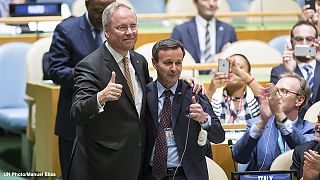 The United Nations General Assembly has elected Italy to fill next year's final seat on the Security Council.
It came after voting between Italy and the Netherlands was deadlocked and the pair agreed to split the two-year term.
The two countries' ambassadors, Karel van Oosterom and Sebastiano Cardi, celebrated the move and vowed to work closely together.
The council has ten elected members: five permanent veto-wielding powers and five voted on each year.
"We have worked for this objective in a spirit of cooperation between two European Union members, in a moment in which the cohesion of the Union is of great importance – and of course our political leaders have done the same," Sebastiano Cardi told the General Assembly.
Italy's foreign minister Paolo Gentiloni tweeted that the 179 votes enabling entry into the Security Council was an honour for his country and a good deal with the Netherlands.
179 voti e entriamo nel Consiglio di sicurezza #Onu. Un onore per l'Italia, un buon accordo con l'Olanda

— Paolo Gentiloni (@PaoloGentiloni) 30 June 2016
Italy has pledged to step down after one year to allow the Netherlands to take over in 2018.
The other non-permanent members elected to the UN Security Council are Ethiopia, Bolivia, Kazakhstan and Sweden.