Terror in Turkey: attack at Ataturk airport leaves 41 dead and scores injured
Comments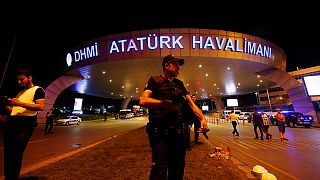 At least 41 people are now reported dead and nearly 240 others wounded following triple suicide bombing and gun attacks on Ataturk international airport.
The deceased include 23 Turks, and citizens of Saudi Arabia, Iraq, China, Jordan, Tunisia, Uzbekistan, Iran and Ukraine, the Istanbul governor's office said.
Three attackers opened fire near the drop off zone of the terminal, randomly shooting at people in the departures hall, before blowing themselves up near arrivals on the floor below.
Amateur video showed the panic.
Police had shot at two of the gunmen in an attempt to stop them just before they reached a security checkpoint.
Witnesses described the terror.
''I reached the airport and heard a big explosion. I saw women and children crying and screaming and then some security guards arrived. I saw people in torn clothes. I did not realise at first that is was because of the blast,'' one man said.
"First we heard gun fire, after we heard screams and everybody started running, and after one minute there was the explosion,"
said another man.
Turkey's Prime Minister Binali Yildirim blamed ISIL for the strike and defended airport security.
"Investigations by our security forces suggest it was carried out by ISIL. There was no gap in security,'' he said.
Ataturk is a major transport hub and vital to Turkey's tourism industry.
The Brussel-style attack is one of the deadliest in a spate of suicide bombings to hit the country this year, as Turkish authorities struggle to contain the conflict in neighbouring Syria and an insurgency by Kurdish separatists.