Turkey terror attack: Istanbul reacts
Comments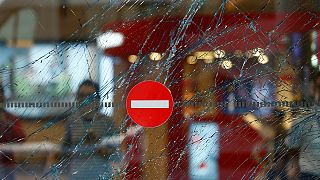 Istanbul woke up on Wednesday morning to the realisation that, yet again, it had been hit by another suicide bomb attack.
Turkey's newspapers expressed outrage over the strikes.
'Baby killers, barbarians' was just one of several front page headlines condemning the assault.
On the city's streets, the attack also prompted widespread anger and dismay.
"This is a huge massacre. Turkey doesn't deserve this. People should not commit such crimes. I condemn this. I have nothing else to say," one Istanbul resident said.
Turkey and Istanbul have already been hit by several suicide bombings in the last year, many, but not all, blamed on ISIL.
It follows a wave of violence across the region and oen Egyptian tourist expressed his solidarity having just arrived in the city: "Terror and violence is no way to answer any problem or any question. And I just hope- I am sure that Turkish people as much as we in the Middle East are strong enough to fight this off and understand that this is not the nature of either the people living in the country or Islam," he said.
Flights in and out of Ataturk airport – Turkey's largest, and Europe's third busiest – have resumed after they were halted in the immediate aftermath of the attack.