World condemns Turkey airport attack
Comments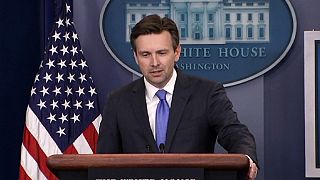 There has been widespread condemnation from around the world, following the attacks in Turkey.
The White House was quick to respond to Tuesday night's assault at Ataturk airport in Istanbul with Press Secretary Josh Earnest issuing a statement that the US remained steadfast in its support for its NATO ally.
Presumptive presidential candidate Donald Trump also reacted to events in Turkey, claiming the threat to terrorism ''has never been greater''.
''Folks, there's something going on that's really, really bad. It's bad and we better get smart and we better get tough or we are not going to have much of a country left, okay? It's bad, terrible,'' Trump said.
Trump also took to Twitter.
Yet another terrorist attack, this time in Turkey. Will
the world ever realize what is going on? So sad.

— Donald J. Trump (@realDonaldTrump) June 28, 2016
US Democratic presidential hopeful Hillary Clinton responded by saying: ''Today's attack in Istanbul only strengthens our resolve to defeat the forces of terrorism and radical jihadism around the world. We must deepen our cooperation with our allies and partners in the Middle East and Europe to take on this threat.''
Elsewhere, Belgium Prime Minister Charles Michel also expressed his solidarity with the victims.
Our thoughts are with the victims of the attacks at Istanbul's airport. We condemn these atrocious acts of violence #Istanbul

— Charles Michel (@CharlesMichel) June 28, 2016
As did Canadian Prime Minister Justin Trudeau.
Canada strongly condemns tonight's deadly attack in Turkey. My thoughts are with the victims as we stand with our allies against terrorism.

— Justin Trudeau (@JustinTrudeau) June 29, 2016
German foreign minister Frank-Walter Steinmeier also reacted:
''We grieve for the victims. We stand by Turkey.''
Many countries have issued updated travel warnings for Turkey in the wake of the triple suicide bombing and gun attacks.