Spain makes new push for Gibraltar after Britain exits EU
Comments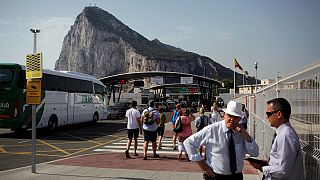 Spain has made more demands over the British territory of Gibraltar just hours after Britain voted to leave the EU.
The people living on the peninsular, who are British citizens with British passports, voted overwhelmingly to stay in the EU. However thousands of Spaniards cross from the Spanish mainland to work there every day.
Spain's acting foreign minister said Madrid should now jointly govern Gibraltar.
"The best formula in my opinion is a transition period of shared sovereignty with two flags. Gibraltar is not something the United Kingdom has to discuss with the European Union, they have to discuss it with Spain and from that moment the treaties stop being applicable to Gibraltar, Gibraltar becomes a third territory," Jose Manuel Garcia-Margallo said.
A spokesman for Gibraltar's government reacted to the idea by saying that co-sovereignty had already been rejected by 99 percent of Gibraltarians in a referendum in 2002.
Garcia-Margallo said Spain would push for Gibraltar to stay out of any negotiations with the European Union following Britain's exit from the bloc.
Instead, he said, Madrid will aim for bilateral talks on co-sovereignty and eventually Spanish control of the peninsula.
Britain however has long rejected any notion of Spanish sovereignty against the wishes of Gibraltar's people.
The territory is one of the most prosperous regions in Europe with a thriving economy based on financial services, tourism and Internet gambling.
The mood was subdued in Gibraltar on Friday, with people apprehensive andconfused about what the result may mean in terms of ease of movement
of people and capital over the border with Spain.
Gibraltar has complained in the past about excessive border controls on the Spanish side of the frontier. Disputes have also broken out between Spain
and Britain over fishing in waters around the "Rock".