Britain: final push for votes as EU referendum looms
Comments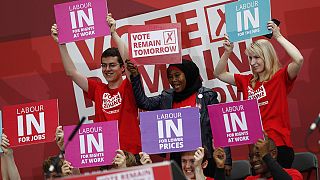 A final frenzy of campaigning is underway across the UK with only hours to go before the country votes in a referendum on its European Union membership.
In one last push to persuade the undecided, Prime Minister David Cameron urged voters to stay inside the EU, claiming Britain was stronger, better and safer in the bloc.
"Stronger because if we leave, we'll diminish our country and our ability to get things done in the world. Safer, because we fight terrorism and crime and climate change better if we stand together and above all better off, because we need access to that market of 500 million people that creates the jobs and investment, the livelihoods that our country and our families need,'' Cameron said.
Immigration remains a key battleground issue. Campaigning with Cameron, former Prime Minister John Major tried played down increasing fears over Turkey's future EU membership.
"They've (Turkey) been negotiating for 30 years without getting in, they are not going to get in in my judgement for one decade, two decades, perhaps ever. Even if they did get in, we are not in the Schengen zone and even if that happened at some far distant future, what absurdity it is to suggest all 77 million Turks are suddenly going to say: 'Let's go to the United Kingdom'," Major said.
The referendum remains on a knife edge with the nation deeply divided.
Latest polling points to an almost even split between voters.