Okinawa rallies against US bases after woman's murder
Comments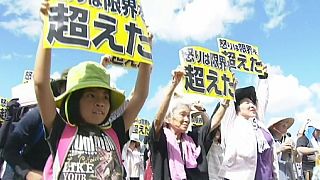 In Japan, thousands of people have protested on the island of Okinawa against the presence of US military bases.
It's the latest in a string of demonstrations following the arrest of an American suspected of murdering a 20-year-old local woman.
The protest, one of the biggest in two decades, marks a new low for US-Japanese relations and threatens plans to have the US Marines air station moved to a less populous part of the island. That plan has been on hold since residents living near the proposed relocation site complained about possible noise, pollution and crime.
Last month's arrest of a 32-year-old civilian worker at a US base prompted the military to announce a 30-day mourning period for the victim and restrict off-base drinking in a bid to quell local anger.
But relations have since been further strained by the arrest of a US sailor on suspicion of drink driving after a car crash.
Okinawa hosts 50,000 US nationals, including 30,000 military personnel and civilians employed at US bases.