The Iraqi government says it has retaken Falluja
Comments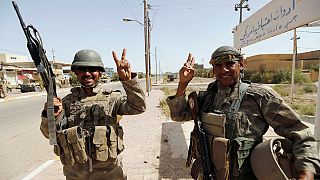 We don't know how to deal with this number of civilians
What is happening?
Iraqi forces have entered the city of Falluja, nearly four weeks after the start of a US-backed offensive that led to the exodus of tens of thousands of residents.
Iraq forces retake central Fallujah from IS https://t.co/ltihccjKtn

—

AFP

news agency (@AFP) June 17, 2016
Government troops, supported by multiple air strikes from a US-led coalition, have recaptured municipal buildings in the centre.
However, what are described as hardline militants still control a significant proportion of the city.
PM Al-Abadi: Fallujah has returned to the nation and Mosul is the next battle, Daesh will be defeated pic.twitter.com/rNhHKMfYfF

— Haider Al-Abadi (@HaiderAlAbadi) June 17, 2016
Prime Minister Haider al-Abadi declared victory shortly after nightfall, as government forces continued to push into the parts of Falluja held by militants.
Why is Falluja important?
The city is a bastion of the Sunni Muslim insurgency against US forces that toppled Saddam Hussein in 2003, and the Shi'ite governments that have followed.
It is also considered to be a launchpad for ISIL bombing attacks in Baghdad, which is an hour's drive west.
The offensive to retake it is a crucial part of the government's campaign to improve security in the capital.
A major operation to retake Falluja was launched on May 23.
Fleeing Falluja
ISIL has begun allowing thousands of civilians trapped in central Falluja to leave.
Witnesses say the group announced via loudspeakers that residents could leave if they wished.
In Pictures: Dust surrounds Falluja's refugees https://t.co/ROzPORNeu4#Dust#refugeespic.twitter.com/8NyZkFILUS

— DhakaTribune (@DhakaTribune) June 17, 2016
The sudden exodus has overwhelmed displacement camps in the vicinity.
In numbers
6,000 families left on Thursday alone – Falluja mayor
68,000 total displaced – UN
90,000 estimated population of Falluja – UN

Fears of sectarian killings
The involvement of Iranian-backed Shi'ite militias alongside the Iraqi army raised fears of sectarian killings.
The authorities are already investigating allegations that dozens of Sunni fighters were executed as they fled the city.
Iraq's top Shi'ite cleric, Grand Ayatollah Ali al-Sistani, urged pro-government fighters not to seek revenge against residents.
What they are saying
"Security forces have tightened their control inside the city and there are still some pockets that need to be cleansed in the coming hours," – Iraqi Prime Minister Haider al-Abadi.
"There is still some fighting to be done," – US Defense Secretary, Ashton Carter.
"We don't know how to deal with this number of civilians," – Falluja Mayor Issa al-Issawi
"Aid services in the camps were already overstretched and this development will push us all to the limit," – Nasr Muflahi, Norwegian Refugee Council.