France: strike action set to continue after talks fail to break deadlock
Comments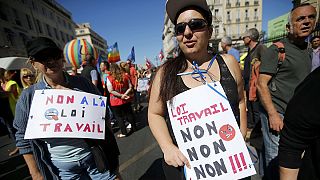 Further strikes in France look set to go ahead after the government and trade unions failed to break the deadlock.
In what was the first meeting between both sides since a wave of nationwide industrial action began three months ago, the head of the country's hardcore CGT union said Friday's talks in Paris had changed nothing to end the current stand-off.
"We came here with proposals. We suggested solutions to the government but we're not the government. At this moment in time we see no reason to end our mobilisation or the planned strikes that have already been announced,'' the CGT's Philippe Martinez said.
The new labour law aims to make it easier for companies to hire and fire workers. France's employment minister insisted the reforms were necessary to give firms more flexibility.
''The government's position is to give priority to the agreements passed between company management and unions. Currently firms don't have enough room or space to breathe,'' French Labour minister Myriam El Khomri said.
The dispute has led to a series of violent protests, as well as severe transport disruption, fuel shortages and piles of uncollected rubbish in the capital, while the country plays host to showcase Euro 2016 football championships.