Battle for Falluja: Iraqi army 'retakes' government compound
Comments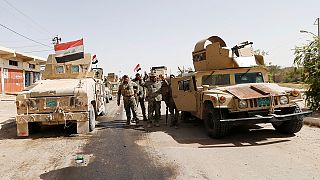 Nearly four weeks after the start of a US-backed offensive, Iraq's army says it has recaptured the main government headquarters in central Falluja.
The military claims to have raised the Iraqi flag above the building.
A spokesman for the U.S.-led coalition, however, said, that while close, Iraq's security forces were still not in control of the compound.
The latest reported advances into Falluja by government forces come as thousands of internally displaced people continue to flee the besieged city.
"We lived in fear and starvation. Our kids were frightened when ISIL was in control. They arrested the men, they beat and hurt them. And any woman who dared to stand-up to them, they would grab her hair and insult her. They showed us no dignity,'' one internally displaced woman said.
Witnesses say ISIL has started allowing thousands of civilians trapped inside Fallujah to leave.
The sudden exodus is reported to have overwhelmed displacement camps already filled beyond capacity.
Tens of thousands of people are still thought to be trapped in the city with the fighting causing mounting casualties.