Orlando: 'The first test of the 2016 presidential campaign'
Comments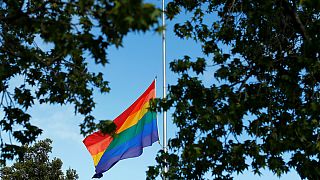 This weekend's mass shooting at a gay nightclub in Orlando, denounced by President Obama as an act of terror and hate, has reignited the debate in the US over how best to confront violent Islamist militancy.
Sharp disagreements in the campaign for the November 8 presidential election were highlighted as the Democratic and Republican White House hopefuls spoke on US television, giving their response to the massacre.
Democrat Hillary Clinton said the United States should walk a fine line in bolstering security without demonising Muslims, and also called for tougher gun safety measures.
"We cannot demonize, demagogue, and declare war on an entire religion...Hate is not the answer to hate." —Hillary

— Hillary Clinton (@HillaryClinton) 13 juin 2016
Her Republican rival Donald Trump criticised the US Muslim population for not reporting suspicions to authorities and reiterated his call for a temporary ban on Muslims entering the country.
What has happened in Orlando is just the beginning. Our leadership is weak and ineffective. I called it and asked for the ban. Must be tough

— Donald J. Trump (@realDonaldTrump) 12 juin 2016
Euronews asked our Washington correspondent Stefan Grobe for his assessment.
Nial O'Reilly, Euronews:Stefan, the scale of this attack has united the country, in some ways, but it has also reopened divisions on gun control, domestic security and terrorism. What impact do you think it will have on the presidential campaign?
Stefan Grobe: "Orlando is, if you want, the first test of the 2016 presidential campaign, giving both candidates the opportunity to look presidential. Both offer totally different approaches – Donald Trump tweeting that he always told us that this would be coming, almost triumphantly slapping himself on the back, calling for tougher and smarter measures to fight Islamic terrorism and renewing his calls for an all-out war against ISIL in the Middle East and a travel ban for Muslims who want to travel to the United States. Hillary Clinton was much more moderate, much more subdued. She talked about the heroism of the first responders, of course calling for national unity. She said this is a time to come together, this is not a time to demonise members of the American nation. She is, of course, against the travel ban. She said we cannot demonise the Muslim community. We need the Muslim community to fight this. And, of course, she also mentioned other angles of this horrible story like violence against the LGBT community, gun violence, and – on a broader level – hate in general as one of the most difficult problems facing society. So, the presidential campaign has already moved to take this event and make terrorism one of the top priorities.
Euronews:Who do Americans trust more on terrorism: Trump or Clinton?
Stefan Grobe: "For Americans, of all walks of life, terrorism is a top priority in this campaign. There is a majority of Americans, according to polls, who say that Donald Trump is probably tougher on terrorism but also a majority of Americans say that Hillary Clinton is much stronger than Trump when it comes to temperament and experience – and both are needed to fight terrorism. By the way, the American public reaction was surprisingly muted. This could be because it was a very hot, early summer weekend or – and this is probably worse – because Americans have gotten used to that sort of violence, considering it almost like a 'tornado-like event' that hits the country every now and then."