Keiko Fujimori concedes defeat in Peru's presidential election
Comments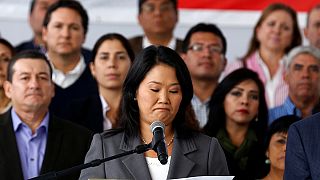 The tightest presidential election Peru has seen in decades appears to be over.
Right-wing candidate Keiko Fujimori has conceded defeat to centrist technocrat Pedro Pablo Kuczynski, but vowed that her populist party's solid majority in Congress would form a "responsible" but "watchful" opposition.
The 77-year-old president-elect has been criticised for his strong connections to Peru's business elite.
"We wish Mr. Kuczynski and his allies in the campaign a lot of luck. As is befitting, I'm certain they will know to remain allies to
the government for the next five years," said Fujimori.
Fujimori, who just two weeks earlier had been the favourite to win the ballot, lost out to the economist by around 40,000 votes. It's a result she called "confusing."
Flautist Kuczynski outlined his plans for the country:
"We absolutely have to find the best people from Peru that have the best political outset, not just technical. I'm a technocrat, but I need to surround myself with good musicians."
In recent weeks, Kuczynski stepped up his attacks on Fujimori whose father, a former president of Peru, is in jail for corruption and human rights abuses.
Kuczynski will take office on July 28, 2016.