Shocking scenes at disabled protest in Bolivia
Comments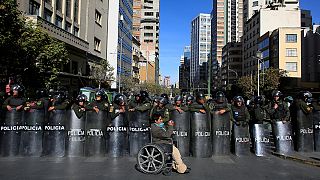 There have been shocking scenes at the end of a demonstration in Bolivia as disabled people clashed with riot police.
We have been gassed repeatedly, this time it is really bad
Tear gas was let off as the protesters, some on crutches or in wheelchairs, advanced down the street in the city of La Paz.
Protests have been ongoing since late April when hundreds made their way to La Paz, #Bolivia (Getty) 4/25/16 pic.twitter.com/k4QIZmfKCx

— reported.ly (@reportedly) May 26, 2016
Some protesters were knocked to the ground.
"Some of the disabled people have been injured during the protest," said one protester. "We have been gassed repeatedly. This time it is really bad, I have been sprayed in the face," one protester told reporters.
A face-off in the street
The protesters tried to stand their ground as the police advanced down the street.
There have been protests in La Paz to demand the government increases the monthly #disability subsidy: https://t.co/5Cv8SEZLqr

— Leonard Cheshire (@LeonardCheshire) May 4, 2016
Campaigners are demanding better state benefits and equal rights for people with disabilities.