Errigo outclasses her rivals to win Shanghai Grand Prix title
Comments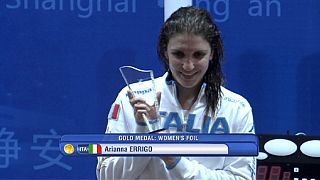 The Italian Arianna Errigo had a golden day at the office when she won the Shanghai International Fencing Federation Grand Prix against the American Lee Kiefer.
The World No1 proved too much for her adversaries in the final dress rehearsal for the Summer Olympic Games in Rio.
The Italian won all of her fights on the way to the final game where she beat the American by 15 points to eight.
Errigo will hope to go Rio with high hopes of going one better than the London 2012 Olympics where she won the silver medal.
There were no real surprises at the Shanghai event. The four semi-finalists comprised players from the world top seven.
In the first semi-final Kiefer knocked out Martina Batini of Italy (15-5). Kiefer, the first athlete in any sport to win gold medals at six consecutive editions of the Pan American Championships, was already ahead of her opponent by 11 hits (12-1), and finally won easily.
In the second Errigo, the two-time individual world champion (2013, 2014) finished it off the same way as Kiefer did in the previous semi-final (15-5). Ysaora Thibus, No5 on the world ranking this season was not in the same league as her Italian opponent.