Iraq: Fears for 20,000 children trapped in war-torn Falluja
Comments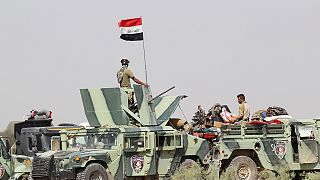 At least 20,000 children are trapped inside the besieged Iraqi city of Falluja as government forces battle to recapture it from ISIL.
The warning comes from the UN children's agency which says that very few families have been able to escape since the army offensive began last week.
Youngsters left behind face the risk of forced recruitment in the fighting according to UNICEF, which wants safe passage for all civilians wishing to leave.
"Children who are recruited see their lives and futures jeopardised as they are forced to carry and use arms, fighting in an adult war," said Peter Hawkins, UNICEF Representative in Iraq
.
There are an estimated 50,000 civilians still in Falluja, living in increasingly difficult conditions. People have been dying of starvation and killed if they refuse to fight for ISIL, according to reports.
UN children's fund issues a stark warning to Iraqi troops and IS militants to spare children in Iraq's Fallujah. https://t.co/E8bypZ5Vsr

— The Associated Press (@AP) 1 juin 2016
Lt. Colonel Muhand al-Tamimi said his Iraqi Counter-terrorism Forces have continued advancing towards their targets to liberate Falluja from ISIL.
"God willing, our troops are determined to liberate the city in full," he said.
But it won't be easy. Iraqi forces have faced fierce resistance in what is set to be one of the biggest battles ever fought against the so-called Islamic State group, which appears to be holding civilians as human shields.
Backed by Shi'ite militias and air strikes from the US-led coalition, Iraqi armed forces launched their offensive on May 23 to recapture Falluja, 50 kilometres west of Baghdad and the first Iraqi city that fell under ISIL control in January 2014.