ISIL fight back in Falluja amid concern for civilians
Comments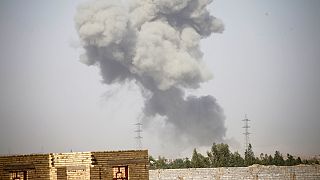 ISIL militants are fighting back in Falluja.
Scores of ISIL fighters launched a counter-assault against Iraqi Army soldiers at dawn as they advanced through the southern part of the city.
Isis fighting back as Iraqi forces try to take centre of Falluja https://t.co/eRBptcdRIj

— The Guardian (@guardian) May 31, 2016
The army has repelled the attack but there have been casualties, sources say.
The assault on Falluja
The Iraqi Army assault has begun what is expected to be one of the biggest battles ever fought against ISIL.
Falluja was the first major Iraqi city to fall to the militant group in 2014 and the Iraqi government, backed by world powers including the US and Iran, is determined to win it back.
Troops began to advance on Monday, a week after Baghdad announced the start of the assault.
Baghdad describes the assault to retake the city as a potential turning point in its US-backed campaign to defeat the ultra-hardline Sunni Muslim group.
Trapped civilians
The United Nations is warning of the danger for civilians trapped in the city.
50,000 civilians are thought to be trapped inside Falluja, which has been in the hands of ISIL since 2014.
Thousands of civilians flee raging battle for #Falluja in Iraq https://t.co/UEMDWjSjdupic.twitter.com/aBXY9pReAP

— UN Refugee Agency (@Refugees) May 31, 2016
Several hundred HAVE managed to escape and have provided aid workers with eye witness accounts.
Basics like food, water and medecine are said to be in short supply.
IS using human shields in Falluja – UN https://t.co/eHQ50FPipypic.twitter.com/8Vxnkye43J

— Reuters TV (@ReutersTV) May 31, 2016
It is feared some families are being used as "human shields" as government forces close in.