Migrant death toll in Mediterranean over past week 'rises to 880'
Comments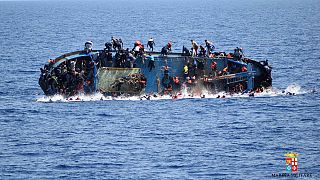 The Mediterranean has seen its most deadly week of 2016 with more than 880 migrants believed to have drowned in shipwrecks off the Libyan coast.
The UN's refugee agency announced the new death toll after interviewing survivors in Italy. As the bodies disappeared in the open sea, it is impossible to verify the figures.
The majority of those lives lost are along the more dangerous North Africa to Italy route. The UNHCR is working to understand the development of the routes, with many originating in the Sabratah area to the west of Tripoli.
"Reports of trauma from sexual and other forms of gender-based violence among women making the journey – or being trafficked – appear common. Some women have told us they were subject to sexual slavery in Libya. We have also been seeing an increase in arrivals of unaccompanied children," William Spindler, spokesman for UNHCR, the UN refugee agency explained.
Geneva briefing: Refugees</a> concerned over shipwrecks in the Mediterranean; 2,150 lives lost in 2016 so far. <a href="https://t.co/STD3G39bus">pic.twitter.com/STD3G39bus</a></p>&mdash; UN Geneva (UNGeneva) May 31, 2016
Boats are often more crowded than the Turkey-Greece route. Up to 600 people are crammed aboard small engine-less vessels which are towed out to sea and left to be rescued.
Warmer weather and calmer seas has led to a surge in numbers crossing from Libya, where smugglers operate freely.
Some 13,000 people have been rescued in a single week, according to authorities.
Italian police released video of 16 men suspected of smuggling hundreds of migrants on an old fishing boat last week. Those on board paid up to 1,000 euros for the journey.