Migrants rescued adrift on new Greece-Italy sea route
Comments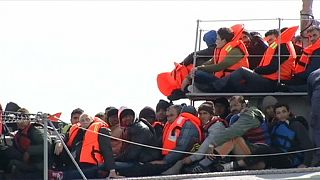 A group of 29 migrants including two children have been rescued off the Greek island of Lefkada en route for Italy.
It's still the same tragedy of people dying in the Mediterranean sea

Sea-Watch spokesperson
The discovery of the boat has raised fears about a new smuggling route as its the first time migrants have tried this way since Greece's land border with the Former Yugoslavian Republic of Macedonia was closed in March.
The migrants whose nationalities are so far unknown were apparently abandoned 27 Km from the island, Italy is over 240 km away.
Meanwhile a photograph of a drowned migrant baby in the arms of a German rescuer has been published by a humanitarian organisation.
The humanitarian organisation Sea-Watch holds a drowned migrant baby off the Libyan cost on May 27, 2016. aiww</a> <a href="https://t.co/0vR7IuZj04">pic.twitter.com/0vR7IuZj04</a></p>&mdash; ParisRésiste ! (ParisResiste) May 30, 2016
"Sea-Watch"http://sea-watch.org/ spokesperson Ruben Neugebauer:
"It's still the same tragedy of people dying in the Mediterranean sea, and so this picture should have the same effect as maybe the picture of Aylan had, and I hope that we can at least touch some people with this because we have to know as Europeans we have to be responsible for this situation"
The image of the baby, like that of three year Syrian boy Aylan whose body was washed up on a Turkish beach last year, gives a human face to the 8,000-plus people lost in the Mediterranean since the start of 2014.