German MP suffers 'cake attack' over refugee stance
Comments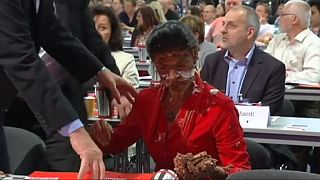 A German MP was hit in the face with a chocolate cake on Saturday, apparently in protest at her stance on refugees.
Sahra Wagenknecht was targeted at a congress of her far-left Die Linke Party in the city of Magdeburg.
She was sitting in the front row during the opening speech when a young man stopped in front of her and threw the chocolate cream cake in her face, before shouting what sounded like slogans. A self-styled 'anti-fascist' group said it was behind the attack.
Wagenknecht has said that Germany should put a limit on the number of refugees it takes in – a position not supported by others in her party.
She is the second German politician to be attacked with a dessert this year over her position on asylum-seekers. Beatrix von Storch of the anti-immigrant Alternative for Germany party suffered a similar fate last month.
Linke MP @SWagenknecht gets cake in her face from people saying she's no better than AfD https://t.co/WDRp0fOtRdpic.twitter.com/Poy5XwfG0T

— dwnews (@dwnews) 28 mai 2016