Dozens of migrants feared drowned in latest Mediterranean tragedy
Comments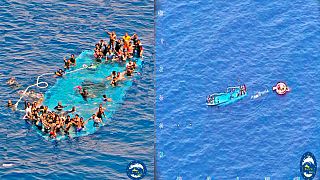 Up to 30 people are feared drowned in the second migrant tragedy in as many days in the Mediterranean.
Amid warm weather and calm seas, more people are attempting the perilous journey in rickety boats from Libya to Italy. More than 7,000 have been rescued this week alone.
In the latest disaster on Thursday, more than 80 migrants were pulled to safety after their vessel overturned. Between 20-30 more, though, are reported to have perished.
'20-30' dead in fresh migrant boat (3) - Around 50 of boatload of 100 saved so far https://t.co/ooGGbrb898

— Ansa English News (@ansa_english) 26 mai 2016
On Wednesday, a large fishing boat also capsized off the Libyan coast. Over 500 people were saved but at least five migrants lost their lives.
Europe's deal with Turkey stemmed the migrant flow across the Aegean Sea to Greece.
But last month a senior EU official said 'alarming' numbers of migrants were reaching Libya, ready to cross the Mediterranean.
"The numbers of would-be migrants in Libya are alarming," European Council President Donald Tusk told the European Parliament a day after Austria said it planned tighter controls on its Italian border in anticipation of a summer migrant surge.