Migrant rescue from capsized boat is caught on camera
Comments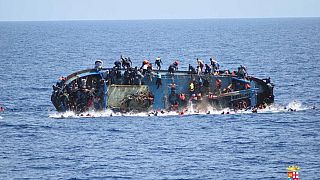 The capsizing of a migrant boat in the Mediterranean Sea has been caught on camera by the Italian Navy.
Patrol boat Bettica was in the area on Wednesday when it saw that the vessel was in difficulty and approached to hand out life jackets.
Tragic scene off the coast of Libya. More than 500 migrants were rescued and 7 dead so far, AP says. pic.twitter.com/IE5VO6xKEZ

— David Furst (@DavidFurstNYT) May 25, 2016
The wooden boat apparently overturned as a result of the migrants rushing to one side after spotting the rescue ship.
Rubber motor boats along with a helicopter were deployed in the rescue operation. Eventually over 500 people were eventually rescued, five others were found dead.
In a separate incident the plight of a nine month old baby from Nigeria has touched rescuers' hearts. The girl whose name is Favour (which means privileged ) is being cared for on Lampedusa, Sicily after other migrants said her mother had been killed in a fire on board another migrant ship.
Favour has been offered water, milk and clothes in a medical centre run by Pietro Bartolo who came to fame because of his role in a film on the plight of migrants, called "Fuocoammare" by director Gianfranco Rosi.
Context
Boat arrivals rose sharply this week amid warm weather and calm seas. Italy's coastguard said 5,600 migrants were rescued on Monday and Tuesday ( May 23 and 24), and officials fear numbers will increase as conditions continue to improve.
In the past two years more than 320,000 boat migrants have arrived on Italian shores and an estimated 7,000 died in the Mediterranean as they sought to reach Europe, according to the International Organisation for Migration.