Postal votes to determine Austria presidential knife-edge vote
Comments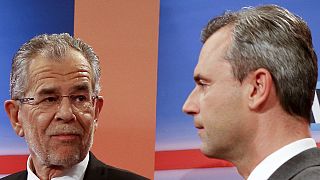 Note: an updated version of this story is available here.
Austria is holding its breath to see which of the two contenders from opposite ends of the political spectrum will become president.
Norbert Hofer of the populist Freedom Party has a lead of 3.8 percent over the ecologist and independent candidate Alexander Van der Bellen after ballot booth votes were counted following Sunday's run-off. The pair had respective scores of 51.9 and 48.1 percent.
But they are effectively neck-and-neck because the all-important postal ballot results are still awaited – which could swing the outcome.
One voter bemoaned the collapse of the political centre.
"I mean, not even in government could the socialists and the OVP (Austrian People's Party) able to agree on anything. We've always been divided. Each party took care of their own clientele," Maria Hinterberger said.
"It's just that the two traditional parties who occupy the centre got kicked out in a bad way. And now parties on the fringes have come into focus. That doesn't mean the country is divided," said another voter, Helmut Peroutka.
A third voter said he thought the function should be shared, with each candidate fulfulling the role for three years.
The president has a largely ceremonial role but a Freedom Party victory would give a boost to other eurosceptic anti-immigration parties in Europe.
Postal votes, which account for some 14 percent of the electorate, are thought likely to favour the rival candidate Van der Bellen – the question is by how much.
Estimates on early Monday afternoon suggest he needs to win the postal vote by over 61 percent for it to be enough to stop Hofer from becoming president.
Austria's interior ministry said that the final result would be announced earlier than planned, between 1330 and 1400 GMT (1530 and 1600 CET) on Monday.
So the 1530 – 1600 announcement appears to be a tad late. #bpw16#bpwahl16#ausvotes

— Alison Langley (@ALangleyShields) 23 May 2016
While we wait for #bpwahl16 results, can we suggest ALangleyShields</a>&#39; report from Vienna? <a href="https://t.co/k2MFh1wMz8">https://t.co/k2MFh1wMz8</a> <a href="https://t.co/QdHGEoK8Yx">pic.twitter.com/QdHGEoK8Yx</a></p>&mdash; dwnews (dwnews) 23 May 2016