Austria's presidential run-off too close to call
Comments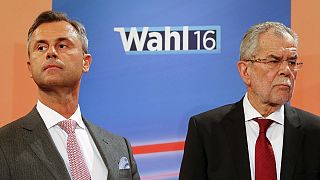 The presidential election run-off in Austria is too close to call, according to latest exit polls.
Projected results put both candidates on a virtual tie with around fifty percent of the vote each.
A 2 percent margin of error also means the ballot, which could herald the EU's first far-right head of state in Freedom Party Candidate Norbert Hofer, will now go to the wire.
A large number of postal votes, yet to be counted, could hold the key to the presidency
Gun enthusiast Hofer is up against independent Alexander Van der Bellen.
The two candidates offer a stark choice for voters, who rejected Austria's two main centrist parties in April's first round.