Iraqi forces storm ISIL stronghold of Fallujah
Comments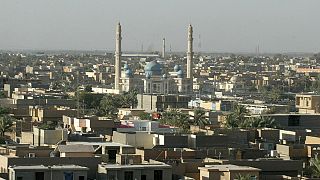 Iraqi forces have begun storming Fallujah, the first city to fall to ISIL, more than two years ago.
Prime Minister Haider al-Abadi called on civilians to flee ahead of the offensive and warned the military to protect those remaining.
"Zero hour for the liberation of Fallujah has arrived. The moment of great victory has drawn near and Daesh (ISIL) has no choice but to flee," he wrote on his official Twitter feed.
Situated around 60 kilometres west of Baghdad, Fallujah has long been considered a hub for extremists and rebels. Its proximity to the capital, recent bombings and growing pressure from Shi'ite militia forces in the area are thought to have triggered the operation.
Shi'ite militias may be restricted to the outskirts of the city, officials say, to avoid tension with the city's predominantly Sunni Muslim residents.
The fight for Fallujah is a detour from the plan of Western forces, which are working towards all but recapturing the northern oil city of Mosul by the end of the year.