Family and friends mourn EgyptAir flight MS804 victims
Comments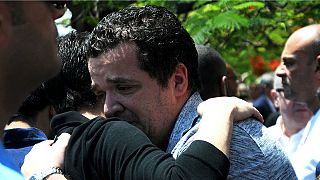 There were emotional scenes in Cairo as relatives, friends and colleagues gathered to grieve for the victims of flight MS804.
Special Friday prayers were held at the Sultan Hassan mosque in the Egyptian capital for the Abu Laban family who were on board the doomed aircraft.
Abdel Rahman Al Nasery, a relative said: "He was my cousin. He was like an elder brother to me. I ask God for forgiveness. This is very hard for the family and God bless all who died on the plane."
Outside the Mosque, there was a palpable sense of shock.
"There is real sorrow for this sudden loss. We are praying for the victims and their families and I ask god to give the strength,'' said Magdi Badr, a friend of the family.
Just under half of those on board EgyptAir flight were Egyptian.
15 French nationals were also in the aircraft when it came down, including a number of children.