Washington could take part in EgyptAir investigation
Comments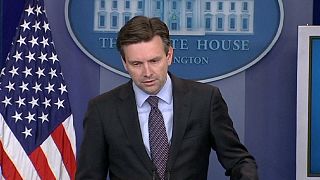 Washington has yet to indicate whether it will take part in the investigation into the apparent crash of EgyptAir Flight MS804 which went missing over the Mediterranean south of Greece earlier on Thursday.
Under global rules, the US could do so as the country where the engines were produced can expect to participate. The United States is where the EgyptAir passenger jet's engine maker Pratt & Whitney is based.
The US National Transportation Safety Board (NTSB) said it would assist Egypt "as necessary" in its investigation into the plane's disappearance.
The White House said it was too soon to determine what caused the aircraft to go down.
"US national security and aviation experts have been in touch with their counterparts in France and Egypt to offer assistance. Many of you all have probably also seen the announcement from the Department of Defense that the United States Navy is working to deploy a P-3 Orion aircraft to provide support for the search of the missing jetliner," White House spokesman Josh Earnest told a news briefing, offering condolences to the families of the victims.
A US official quoted by Reuters said US agencies feared Egypt might try to keep American investigators at arms length due to historical tensions dating back to the crash of EgyptAir Flight 990 off the US coast in 1999.
News of the latest crash came through as NATO foreign ministers were meeting in Brussels to discuss security challenges.
"I just wanted to say that my thoughts are with the family and friends of all those on board of the EgyptAir plane that is missing this afternoon. We know that there is a British passport holder on board, got onto the plane in Paris and we are providing support to the family. Obviously we are anxiously awaiting further news of what may have happened to this aircraft," said the UK's Foreign Secretary Philip Hammond.
NATO's Secretary General Jens Stoltenberg also offered his condolences, saying the alliance was on standby and ready if requested to assist in the search for the EgyptAir plane.