Cleveland go two-up against Raptors
Comments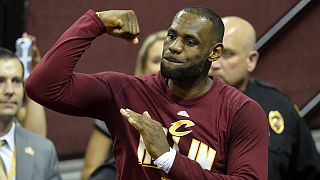 A nineteen-point victory margin was testament to Cleveland's dominance in the second game of the NBA Eastern Conference finals with Toronto. It was also their tenth playoff win on the roll, only the fourth in NBA history after two for the great Lakers sides, and one for San Antonio.
The Cavaliers thus take a tidy two-nil lead in the best-of-seven series before heading to the Raptors' home court in Canada.
Cleveland's "big three" of LeBron James, Kyrie Irving and Kevin Love scored most of the Cavaliers' points between them and looked so slick and finely-tuned it is hard to see a way back for the Raptors with them in this mood. For Irving and Love it is especially sweet after their injury problems ruled them out of Cleveland's last big Championship showdown, which they lost.
Should Toronto lose the next match they'll be just one defeat away from missing out on the finals. But many in Cleveland are daring to wonder if their time has finally come.