To be demolished: inside a red-labelled house in Portoviejo (Italian)
Comments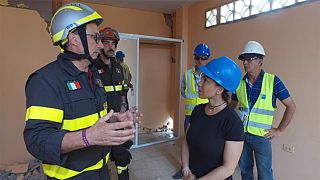 Why do some old houses resist earthquakes better than some new buildings? We found out from Roberto Lupica, team leader of an Italian firefighters' team specialised in structural evaluations. Click on the video above to watch the interview in Italian or read his response below.
Monica Pinna: Why was this area in particular so badly damaged?
Roberto Lupica: A lot depends on the direction of the power generated by the quake. The kind of ground where the buildings were constructed is also very important. Other factors are also the direction of the building compared to the direction of the quake's power, the shape of the building, and the kind of structure. We saw old wooden houses reacting to the quake better than recently built cement buildings.