Emergency response: inside Ecuador's disaster zones
Comments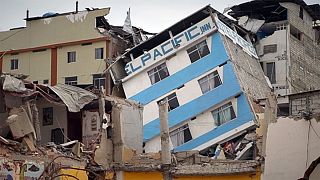 Ecuador's 7.8 magnitude earthquake on April 16, killed nearly 700 people. More than 4,000 others were injured. Today around 30,000 people are living in temporary shelters. In total, close to two million people have been affected.
When a country is hit by a disaster that overwhelms its capacity, international assistance is vital. When the earthquake struck Ecuador, the EU Civil Protection Mechanism soon started coordinating the national civil protection response across its network of 34 countries.
Denis Lopez, team leader at the EU's Civil Protection Mechanism said: "From the day after the earthquake, Ecuador's authorities asked for international help and the European mechanism immediately deployed its rescue teams. Spain arrived first. It was really fast, they were sent the following day".
First response

A team of 50 Spanish rescuers were deployed in the first crucial 72 hours after the main shock, when 80% of victims can still be found alive under the rubble. When Euronews arrived in Portoviejo, about ten days after the quake, the emergency phase had ended and response had entered into a phase of technical assessment. We followed the Italian National Civil Protection team, operating under the umbrella of the EU Civil Protection Mechanism. They worked for about two weeks inside and around the "zone zero", devastated by the quake.
"We are here to evaluate buildings'structural damage. We evaluate how dangerous they can be, especially in the event of an after shock of the same magnitude of the quake. We check around 70 buildings per day," said Roberto Lupica, head of the Italian firefighter's unit.
About 500 buildings were checked in Portoviejo. Most of them were classified yellow or red, with serious damages or totally condemned.
"We have to confirm a first check that was made, in order to decide whether this building has to be demolished or not," explained Lupica
Learning that your house is one of many that needs to be demolished, is understandably hard to hear.
"My mother lived out of this rental. There is no money, we don't have enough money now to rebuild all this, how can we do that?," asked Julissa, a local homeowner.
Zero zone
The situation was the same in Manta where residents were allowed in turns into their homes to recover their belongings before demolition.
In Portoviejo we visited the European Coordination Team, whose task was to facilitate the activities of all the European teams sent on site to support local authorities.
Our correspondent Monica Pinna explained: "All the information on the quake is gathered here. And this is also the place were the response is planned, therefore what units will be sent and to where."
Juliàn Montero Caballero is the deputy team leader of the EU's Civil Protection Mechanism: "The EU coordination team consists of nine experts from eight different countries. The Italian team has only done structural engineering. The French team did structural engineering and water purification. Also three British experts came to do structural engineering."
#aidzone#tarqui district totally destroyed. Under the library were found 92 bodies, pic.twitter.com/eOV9yY8ctz

— Monica Pinna (@_MonicaPinna) 2 mai 2016
The EU has released one million euros as initial humanitarian aid, channeled to provide life-saving support. Food and water distribution is an example. Around 347,000 food parcels were delivered in the first two weeks after the quake. The army distributed three-day food parcels in rural areas around Rocafuerte, coordinated by the World Food Programme.
Erva Enormina Montes Intriago, resident of Tierras Amarillas, Rocafuerte, says the aid is extremely welcome: "My house fell completely. I was left in the street. We are given food every two or three days."
The shortage of drinkable water was among the biggest problems after the earthquake. A French team of thirty experts arrived in the town of Chone one week after the disaster. In three weeks they distributed around 715,000 liters of water to around 10,000 people.
French firefighter Captain Ghislain explained to euronews how much water daily his facility could make: "We can produce 70 cubic meters and we distribute an average of 60-65 cubic meters (per day) to the population either by them refilling or by direct delivery with our vehicles or tankers."
International technical assistance has allowed Ecuador to raise its procedures up to the most advanced standards, which will be useful for the following step – reconstruction.