Aid and political transformation on agenda at International Syria Support Group meeting
Comments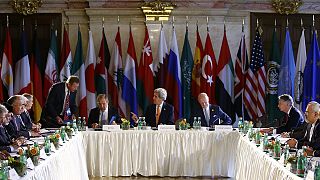 Representatives from 17 countries backing peace talks on Syria are in discussions in Vienna in the latest effort to reach an agreement on how to manage the crisis in the country.
German Foreign Minister Frank-Walter Steinmeier said the meeting of the International Syria Support Group would aim to encourage opposition groups to attend fresh negotiations in Geneva.
At the International Support Group for #Syria in Vienna. EU major actor on humanitarian aid and political process pic.twitter.com/VqPQRChUPg

— Federica Mogherini (@FedericaMog) May 17, 2016
To do this, it is hoping to reinstall a nationwide ceasefire and ensure humanitarian aid reaches besieged areas.
"This political transformation is necessary, because there can be no long-term future for this country with (Syrian President Bashar) al-Assad, which is why we have to start here in Vienna under the backing of the United Nations to negotiate how a transitional government could look and to set the course for this (process)."
However, Russia remains unconvinced that Assad needs to go, according to one, anonymous senior UN diplomat.
He said Europeans are feeling sidelined in the challenge to end Syria's five-year civil war and are "sceptical about US-Russia bilateralism."
International #Syria Support Group meeting currently underway in Vienna. #SyriaTalkspic.twitter.com/bNQRbV48db

— UN Geneva (@UNGeneva) May 17, 2016