Thousands of protesters for and against impeachment gather outside Brazilian parliament
Comments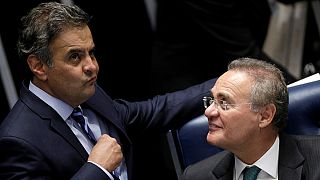 As the Brazilian senate debated whether or not to impeach its president, protesters gathered outside the congress in the capital Brasilia.
The military police put the numbers at 5,000, with an estimated 4,000 demonstrators against impeachment and another 1,000 in favour.
Dilma Rousseff, who has been in office since 2011, has seen her popularity plummet with Brazil's worst recession since the 1930s and a financial scandal at the state-run oil company Petrobras.