Brazilian senate due to vote on Dilma Rousseff impeachment
Comments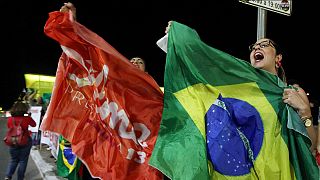 The Brazilian senate is due to vote on Wednesday on whether to impeach the president.
If senators vote in favour, Dilma Rousseff will be suspended from office and be put on trial for breaking budget laws.
The president told a gathering of female supporters: "without a doubt we are going through a time when the people feel that we're making history, the history of this country."
In a last-ditch attempt on Tuesday, the government's top lawyer, Attorney General Eduardo Cardozo, asked the Supreme Court to annul the proceedings saying they were politically motivated and had no legal basis.
Those who want to see the president ousted accuse her of corruption and hold her responsible for the country's recession.
Her supporters say the impeachment attempt is a political coup against a democratically elected government.